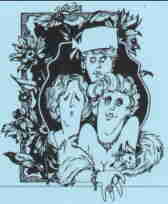 Grey Lite Theatre presents
"The Cemetery Club"
by Ivan Menchell
Directed by Pat Arthur
The cast of "The Cemetery Club"
From the Director's Chair
Ivan Menchell is to have written "The Cemetery Club" as a tribute to his mother. Our study of the script makes us very aware of how much our Jewish friends prize family and friends. That study brought forth several Jewish expressions, described below to help you better understand the play.
Seder - a meal worship service around a table explaining the Jewish Exodus from Egypt
The Unveiling - an important ceremony which takes place at the conclusion of the mourning period when a headstone is placed on a grave
Schlep -Yiddish, a heavy load, a burden, a sense of taking along
Maven - an expert
Mazel - luck
Buzzjuring - pestering
Also the custom of placing small stones on a headstone or grave has the purpose of showing that someone was there.
My sincere thanks to the cast of The Cemetery Club for their commitment of time and talent and props and costumes, etc., etc., etc. The cumulative years of theatrical experience of these five people are many, and that has served to make my job a lot easier. It has been a pleasure working with each of them.
I want to express my gratitude to the members of the board of Grey Lite Players for the opportunity and the assistance with those mundane tasks that must be done in order to get the show on the road.
Who's Who in the Cast
Barbara Bickel is a native of Wabash who has resided in Fort Wayne for two years. Previously she taught English, speech, and theatre at Northfield HS (Wabash) where she directed some 45 plays, musicals, and community theatre productions. For the past 5 years, she has taught English and speech and directed at Canterbury School She and her husband Dan (principal at Weisser Park/ Whitney Young) enjoy frequent NYC theater jaunts. Barbara is excited to be back on stage after a 20+ year hiatus. Her favorite role from long ago is Mrs. Higgins in My Fair Lady.
Muriel Downy is the Director of Special Education with East Allen County Schools She has performed on all local community theater stages Most recently she has appeared as Cara in Monny at Seven at First Pries. Her favorite role to date was Jenny in Chapter Two at Gaslight Theatre in KendallviIle. In addition to theater, Muriel enjoys reading outdoor activities, and quiet times with family and friends
Lisa Ann Haram has been doing theater in Fort Wayne and the surrounding area for over 20 years She started directing in 1985 with Guys and Dolls for Arena and just directed Season's Greetings this past December for Arena. Most recently she was seen in Never Too Late at Arena as Grace Kimbrough. Some of Lisa's favorite roles include Jack Worthing inThe Importance of Being Earnest and Mrs. Kimball in The Elephant Man, both at Pit In her spare time, she volunteers at WBNI, Fort Wayne Children's Zoo and cares for her four pets: Sheido, Gizmo, Ebony, and Sam When she is not volunteering, GTE pays her to spend time working for them as a Programmer Analyst
DonEtte Harold is a reading teacher at Blackhawk Middle School. Her hobbies include bike riding, reading, working with Bower North audiences, participation mysteries and playing with her cat Shadow. DonEtte's favorite roles are Meg in Sam Shephard's Lie of the Mind at PIT. Mrs. Baker in Butterflies Are Free, and Linda Loman in Death of a Salesman, both at First Presbyterian. Her other roles include the mother in Barefoot in the Park and Jessica Ragg in The Hightower Mystery at Arena Dinner Theatre.
Orion Toepfer is an optometrist in beautiful downtown Wabash. He has been coming to Fort Wayne to act sine 1981 and has performed in four other theaters here. His favorite role was Noah in Two by Two at First Pres. two seasons ago He is married to a high school teacher, and they have five children with five spouses and six grandchildren Talk about typecasting Orion and his wife Mary Jane celebrated their 40th anniversary last month!

Click to subscribe to greenroom
Sign My Guestbook
View My Guestbook